Southern NSW LHD Mental Health Month celebration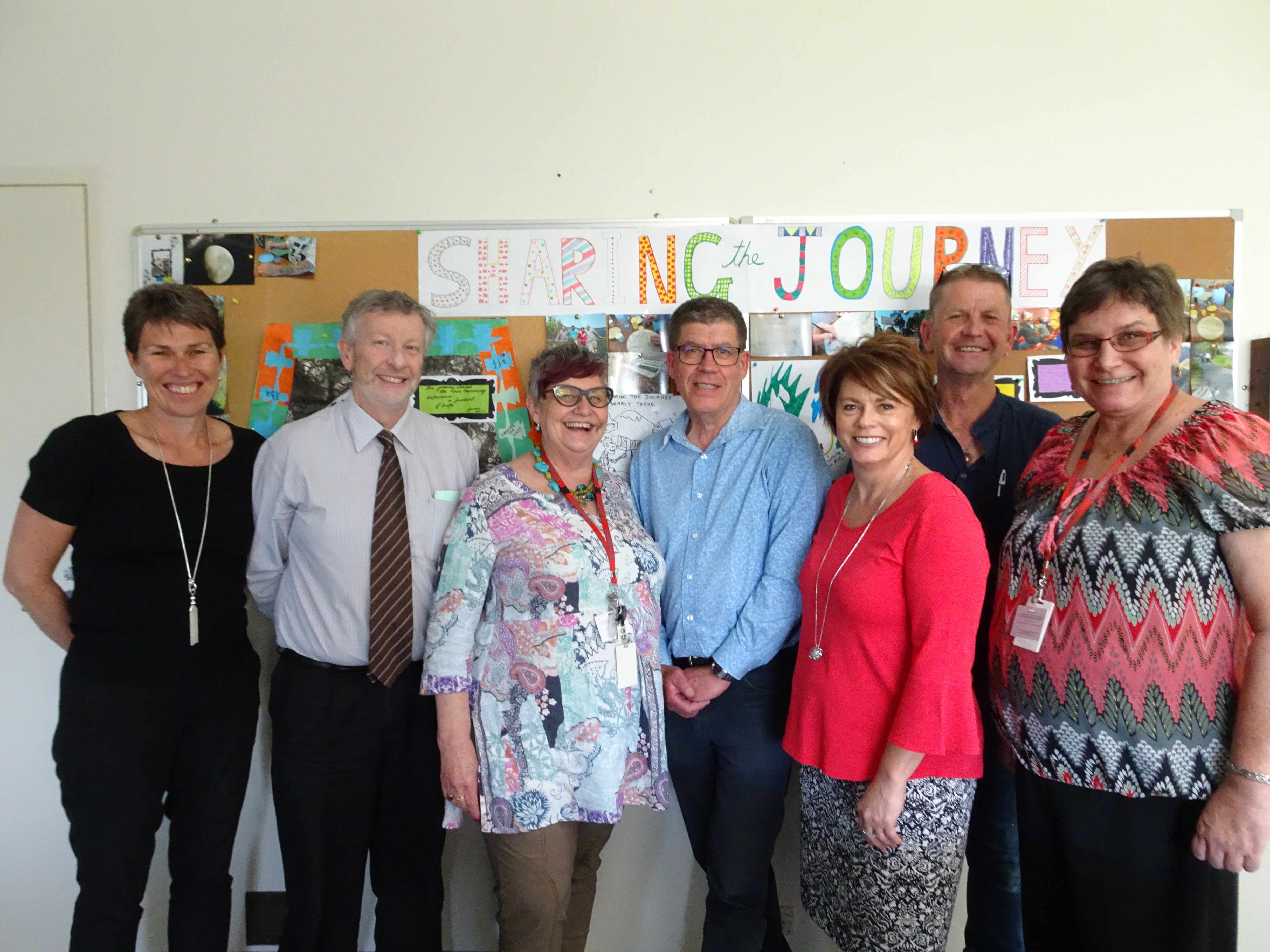 COORDINARE Mental Health Peer Coordinator, Tim Heffernan, was recently guest speaker at Southern NSW Local Health District's (SNSWLHD) Mental Health Month, 'Sharing the Journey' celebration.
In the morning, Tim joined fellow peer worker Robert 'Butch' Young for a tour of Chisholm Ross Centre where he spoke to consumers and staff from the Low Dependency Mental Health Unit (LDU).
Sitting in a comfortable lounge area, Tim was impressed by the experience of being part of a group discussion in the outstanding facility.
The Chisholm Ross LDU is a model for inpatient mental health care. It is open plan, bright and comfortable, and the outdoor area is large and welcoming. Consumers have created a mural celebrating mental health month and an extensive, well used library also contributed to the positive, hopeful feel of the unit.
The innovative design of the LDU features a nursing station (that is not glassed in) and a mobile phone charging station. In a first for inpatient care, consumers are permitted to have their mobiles and guidelines have been created for their safe and responsible use.
It was not surprising that the next day, Fay Jackson, Deputy Commissioner NSW Mental Health Commission visited the unit to congratulate staff on the eradication of Seclusion and Restraint.
The main mental health month event was a BBQ lunch at the Ron Hemmings Centre at Kenmore Hospital. Prior to lunch Tim spoke about his role as Mental Health Peer Coordinator with COORDINARE, about his own recovery journey and about the growing movement for mental health care to be provided in the community.
Tim explained how the peer workforce is emerging as an important workforce in recovery-oriented services in both community and in-patient settings. His own role with COORDINARE involves developing and supporting the peer workforce.
As a member of the Mental Health Commission of NSW's Community Advisory Council, Tim has been closely involved in the development of the Living Well Strategic Plan, which makes strong recommendations around the development of the workforce.
The receptive audience included consumers and carers, staff from the Ron Hemmings Centre, One Door, Carer Assist and Flourish Australia, as well as senior executive from SNSWLHD.