2017/18 Annual Report Card now available!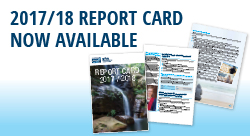 We are delighted to release our third annual Report Card which showcases our key achievements and highlights some of the work we have undertaken.
2017/18 has seen our PHN continue to evolve and mature, consolidating our relationships across the region and building on collaborative efforts with our partners.
Our work 'supporting general practice as the cornerstone of primary care' remains central to our purpose. We are pleased to see engagement with the suite of tailored initiatives on offer to the 205 general practices across the region continues to strengthen.
Our role as commissioners is also growing with $22.4m of our total annual funding going out to local providers to address inequality and service gaps for those most at risk of poor health outcomes in our six health priority areas: chronic conditions, prevention initiatives, mental health and suicide prevention, drug and alcohol, Aboriginal health and end of life care.
We hope that you enjoy reading the highlights of our achievements presented in this Report Card. We could not have achieved so much without the support and leadership of the Board, and the dedication, talent and commitment of our staff. We congratulate and thank them for their efforts.
Download a copy here.