Mental health forum: Putting consumers and carers at centre of mental health reform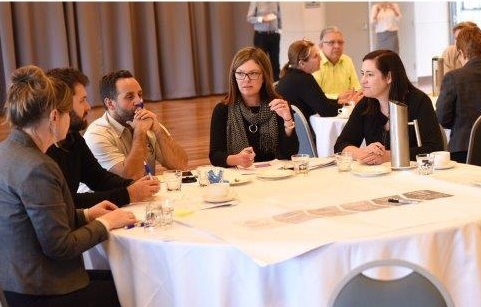 As part of Mental Health Month 2016, local consumers and carers will have an opportunity to have their say on mental health reform within the region, with a Consumer and Carer Forum being held in Queanbeyan on Tuesday 11 October.
According to Anne Francis, Coordinator Consumer Participation Strategies Mental Health, the forum will be hosted by the Southern NSW Local Health District's Consumer Participation Group in partnership with COORDINARE – South Eastern NSW Primary Health Network.
"The forum will be a great chance for Southern NSW consumers and carers to contribute to our understanding of local health needs and priorities, and help develop solutions which will contribute to a regional mental health and suicide prevention strategy," said Ms Judy Carmody, Coordinator Family Friendly Mental Health Services Program.
"We are encouraging those with lived experience of mental illness, carers and their family members to attend and contribute their knowledge, experiences and ideas to improve the types of services available, and how they are delivered on the ground."
Keynote speakers on the day will include Robert 'Butch' Young, Consumer Advocate for Goulburn, and John Lomnicki, a young carer from Batemans Bay.
"Butch has lived with schizophrenia for nearly thirty years and will share with us his 'Toolbox for Life'. His story will take attendees on a road like no other; they will be challenged by his honesty, moved by his pain and excited when he shares his magic, joy and hope.
"Meanwhile, John will highlight some of the difficulties of living with parents and loved ones who have mental health issues," said Ms Carmody.
John was recently recognised in the Youth Frontier's Awards at NSW Parliament House, named runner-up in the mental health category for his short film 'Walk A Mile'.
Both the Local Health District and COORDINARE are particularly interested in people's input around six priorities: low intensity mental health services; youth mental health; psychological therapies for hard to reach groups; mental health services for people with severe and complex mental illness; community-based suicide prevention; and Aboriginal and Torres Strait Islander mental health services.
Dianne Kitcher, CEO of COORDINARE said: "Implementation of a more responsive range of services will take time to implement and this is only the first stage of the process."
"We want to hear what has been working well, where there are gaps in service delivery, and what opportunities there are for improvement. This is your chance to have your say on the direction of mental health and suicide prevention strategies locally," added Ms Kitcher.
The forum will be held at the Kangaroo's Club (Cnr Richard Ave & Stuart St, Queanbeyan) from 9am on Tuesday 11 October. Consumers and carers who live in the Southern NSW Local Health District are invited to attend. Registrations close on 30 September.
For more information phone Anne Francis on 61249891/ 0417664893 or Judy Carmody on 62202102 /0459841882 or to register email kwu@coordinare.org.au.