State of the Art APNA National Conference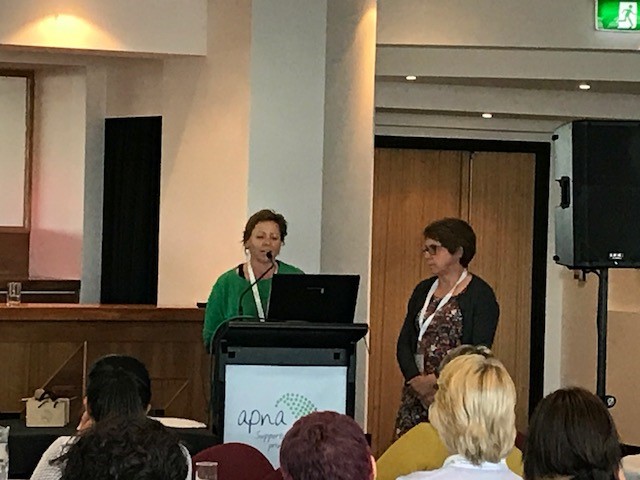 The 2017 APNA (Australian Primary Health Care Nurses Association) National Conference, held in Hobart earlier this month provide attendees with the opportunity to connect and share their experiences, questions and insights with experts and peers in primary health care.
Five nurses from across the PHN region showcased innovative programs at the conference, details of the presentations can be read below:
Nurse led Teen Clinic - presented by Meaghan Campbell and Sue MacKinnon, Bega Valley Medical Practice
As part of the APNA Enhanced Nurse Clinics Program, the Teen Clinic is an innovative nurse led model that supports the local needs of youth in the region. Meaghan Campbell and Sue MacKinnon set a very compelling scene by introducing their presentation with two inspirational stories of adolescents who have visited the clinic. The Teen Clinic is welcoming and accessible to the adolescents, provides holistic care that is free at the point of access, youth friendly and confidential.
Bega Valley Medical Centre have been offering the drop-in Teen Clinic service to adolescents in the area for approximately 18 months. Teens attending the clinic are assessed by a nurse and then referred on to a GP or other local service providers as required.
Geriatrician In The Practice (GIP) – Worrigee Street Medical Centre, co-presented by Kathy Godwin
The aim of this initiative is to enhance dementia assessment skills (diagnosis and management) of both GPs and practice nurses, improve continuity of care for patient and carers, and to improve linkages between Specialist Services and Primary Health Providers. A Geriatrician and Clinical Nurse Consultant accompany a GP in their rooms, providing joint, integrated GP/specialist appointments for patients.
A three and a half hour session is held once every 6 weeks for a period of 3-4 months and provides initial dementia assessment and follow up of identified patients. The initiative has been implemented in 8 practices in the Shoalhaven area and is funded by the NSW Ministry for Health under its Integrated Care – Planning and Innovation Fund.
SKIP – presented by Ros Rolleston, practice nurse at Worrigee Medical Centre
SKIP is a nurse led clinic for the holistic care of people with mental illness, providing a person centred approach to care. The purpose of SKIP is to prevent the progression of illness by integrating mental and physical health care within a framework of engagement, education, empowerment and enablement. Early indicators of SKIP's successes from a one month snapshot include 89% of people receiving health education, 79% of people being referred to services in the community and 38% of people receiving vaccination.
Integrative literature review: lifestyle risk communication by nurses in primary care – presented by Sharon James, PhD student, University of Wollongong and casual practice nurse, Canning Street Surgery.
An increased chronic disease burden, as well as growth of the primary care nursing workforce, has created opportunities to enhance activities aimed at lifestyle improvement. While chronic conditions are amenable to behaviour change, the influence of policy, funding, organisational commitment, patient, professional and interpersonal factors on primary care nurse service delivery often result in the underutilisation of nurses.
Understanding primary care nurses' views on lifestyle risk communication is needed for improvement in chronic disease management and service delivery effectiveness.
For more information on the APNA National Conference visit: http://apnaconference.asn.au/