Test for HIV in a diverse range of patients, including heterosexual men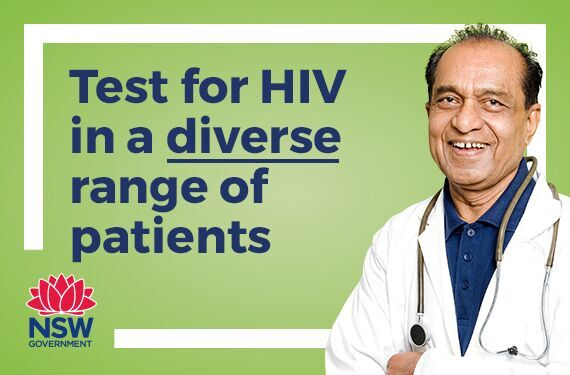 NSW Health data shows a need to increase HIV testing among heterosexual men who have sex with other men.
These men may be in heterosexual relationships, be married, have children and/or come from a range of cultural and socioeconomic backgrounds. For these men, having sex with other men may be hidden and separate from their public lives. They may not feel comfortable asking for an HIV test, or even see themselves at risk of HIV.
Some HIV infections are acquired by men who have sex overseas, in countries where HIV prevalence is high among the general population and/or in certain groups, such as sex workers, men who have sex with men, and people who inject drugs.
NSW Health Data suggest HIV in these groups of people is being diagnosed late. Late diagnosis can lead to HIV-related illness otherwise prevented by early effective treatment. Men with undiagnosed infection can also unknowingly pass HIV on to other sexual partners.
NSW Health encourages health professionals to increase HIV testing for all patients at risk of HIV. Health professionals should avoid assumptions about a person's HIV risk and offer testing to patients who:
are heterosexual men who have sex with men
have had sex when travelling in a country where HIV is common
have had sex with someone from a country where HIV is common
come from a country where HIV is common.
Resources to help you test
NSW Health provides resources and support to make HIV testing easier than ever. Remember, the NSW HIV Support Program and NSW Sexual Health Infolink are there to support GPs and patients when a diagnosis is made.