Working in a practice of the future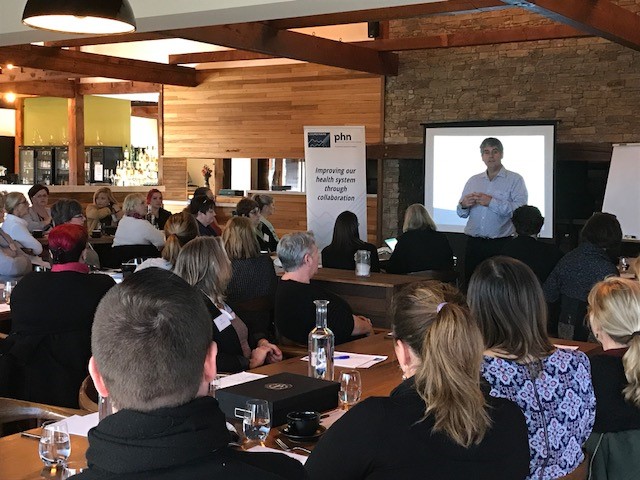 Forty-eight receptionists representing 25 practices throughout the Southern region attended the COORDINARE Receptionists' Development Day held at Pialligo Estate on 7 June. These receptionists came together to focus on the topic 'Working in a practice of the future'.
David Wenban, Managing Director, Australian Health Industry Group (AHIG), gave two presentations. 'Adapting to and coping with change' covered the award system and entitlements, codes of conduct and policies and how to keep up with changes. He spoke of WHS in the clinical environment, interesting information about obligations regarding email, internet and the use of social media, what exceptional customer service looks like and strategies for dealing with conflict in the workplace. David's presentation on 'Privacy' covered changes to the Privacy Act and how patient information must be handled. Receptionists came away with an increased understanding of the impact of privacy and breaches on customers and patients.
During the 'De-escalation – mental health training' presentation by Steve Hartin, Mental Health Clinical Leader, Grand Pacific Health, receptionists (as the first point of contact in general practice) learned of strategies and appropriate responses when confronted with the aggressive behaviour of a patient in the waiting room.
Katrina Otto, Principal/Owner, Train IT Medical, spoke on the 'Efficient use of new technology for practice improvement' which is available on Katrina's website here. She also covered data quality at the reception desk using Top Bar and contacting patients via SMS, email or apps.
We received positive feedback with attendees indicating they valued the high calibre of speakers, the relevance of the topics, receiving an update on the importance of data quality and their obligations regarding privacy. Receptionists who attended said Katrina had made them aware of how much they still have to learn and that "she was a fantastic speaker." They found it useful hearing about changes ahead in general practice and the "great content and informative speakers were all very relevant."
David Wenban's presentations are available on request from Ruth Berghan at the Australian Health Industry Group ruthb@austhig.net.au.