Celebrating NAIDOC Week in South Eastern NSW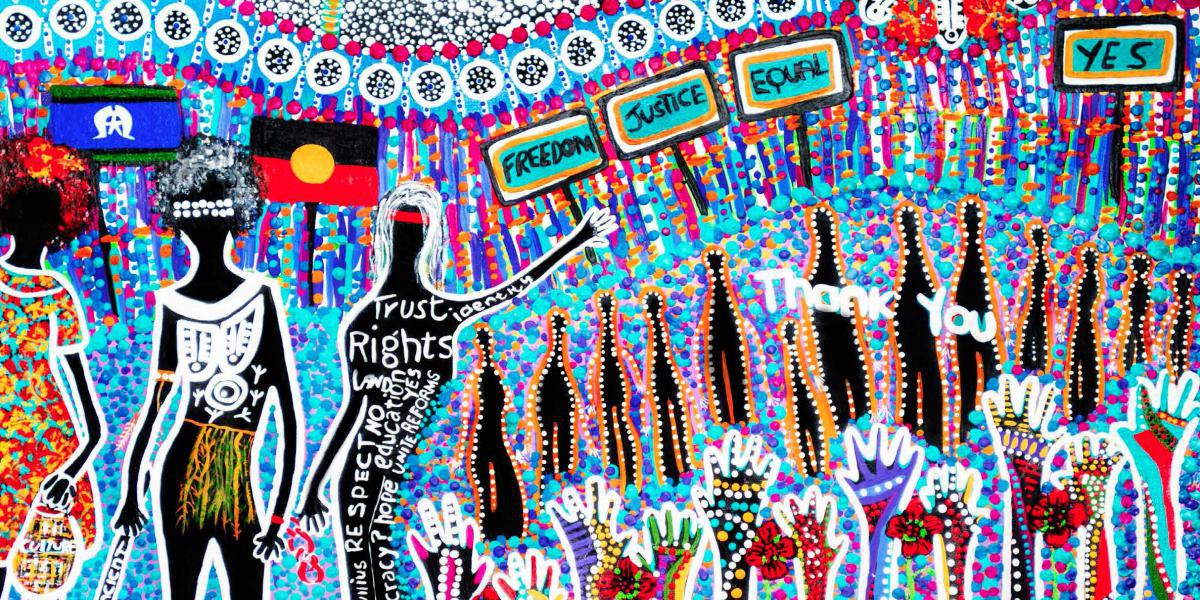 NAIDOC Week 2018 is a national celebration held on 8-15 July. It's a time for all Australians to come together to celebrate the history, culture and achievements of Aboriginal and Torres Strait Islander peoples, and the oldest continuing cultures in the world. 
'Because of her, we can!' is the NAIDOC theme for 2018. This theme celebrates the essential role that Aboriginal and Torres Strait Islander women have played – and continue to play – as inspiring role models and changemakers locally, regionally and nationally. 
To find out more about NAIDOC Week, visit the official website: www.naidoc.org.au
What's happening in our region?
There are plenty of opportunities for health professionals and community members to join in with the NAIDOC Week celebrations, with a range of great events happening across the region. 
Event list - Illawarra Shoalhaven  
| | | | | |
| --- | --- | --- | --- | --- |
| Location | Event  | Date/time | Address | Further info |
| Corrimal | Coffee and a chat with Uncle Richard Archibald  | Wed 11 July, 11am | Corrimal Library, 15 Short St | Book here   |
| Corrimal | NAIDOC Week art workshop (for kids aged 8+) | Fri 13 July, 2.30pm  | Corrimal Library, 15 Short St | Book here |
| Bellambi | Northern Illawarra NAIDOC celebration  | Wed 18 July, 10am-12pm  | Bellambi Surf Club, Morgan Place, Bellambi   | Event flyer |
| Wollongong | Wollongong Hospital's NAIDOC celebration  | Mon 9 July, 9.30am | Loftus Street entrance foyer, Wollongong  | Morning tea provided |
| Wollongong | Illawarra Aboriginal Medical Service Open Day   | Thurs 12 July, 10am-2pm  | 150 Church St, Wollongong  | Facebook event |
| Dapto  | NAIDOC Week art workshop (for kids aged 8+) | Mon 9 July, 9.30am  | Dapto Library, Ribbonwood Centre, 93-109 Princes Highway | Book here   |
| Dapto  | Coffee and a chat with Uncle Richard Archibald  | Wed 11 July, 3pm  | Dapto Library, Ribbonwood Centre, 93-109 Princes Highway | Book here   |
| Koonawarra | Koonawarra Community Centre NAIDOC celebration  | Thurs 12 July, 10am-2pm  | Koonawarra Community Centre, 36 Fowlers Rd | Event flyer |
| Warrawong  | Warrawong NAIDOC Family Fun Day   | Tues 10 July, 10am-1pm | Greene St, Warrawong | Event flyer |
| Albion Park Rail | NAIDOC Community Day | Mon 9 July, 11am-2pm | Albion Oval, Ash Avenue, Albion Park Rail | Event flyer |
| Kiama  | Local Government Regional NAIDOC Awards 2018 | Sat 28 July, 5-10pm  | The Pavilion, 2 Bong Bong St, Kiama | Book here |
| Kiama  | NAIDOC Week art exhibition  | Fri 29 June - 5 July | Old Fire Station Community Arts Centre, Corner of Terralong/Shoalhaven St | Details here  |
| Shoalhaven | NAIDOC Week Family Fun Day | Wed 11 July, 10am-2pm | Nowra Showground, West St | Details here |
| Ulladulla | Ngulla NAIDOC event   | Fri 13 July, 9.30am-2.30pm | Ulladulla Civic Centre, 81B Princes Highway | Event flyer |
 Event list - Southern NSW
| | | | | |
| --- | --- | --- | --- | --- |
| Location | Event  | Date/time | Address | Further info |
| Batemans Bay | Indigenous round NAIDOC rugby match  | Sat 7 July, 10am-4pm  | Hanging Rock Rugby Field, Batemans Bay  |    |
| Batemans Bay | NAIDOC Opening Ceremony – raising the flag  | Mon 9 July, 10am  | Eurobodalla Shire Council, Batemans Bay   |   |
| Batemans Bay | Koori Booris Culture Day | Wed 11 July, 11am-2pm  | SDN Family Centre, Melaleuca Cres |   |
| Moruya  | Moruya Family Fun Day  | Tues 10 July, 11am-2pm  | Riverside Park |   |
| Moruya  | Youth Indigenous Games Sports Day   | Thurs 12 July, 10am-2pm  | Moruya Showgrounds   |   |
| Moruya  | Elders NAIDOC lunch  | Fri 13 July, 11.30am-2pm  | Riverside Park | RSVP to Narelle: 0457 122 753 |
| Bega  | Bega Valley Family Fun Day | Thurs 12 July, 11am-3pm  | Bega Indoor Sports Stadium, Carp St | Event flyer |
| Queanbeyan | NAIDOC art exhibition  | Mon 2 – Sunday 22 July | Queanbeyan Performing Arts Centre, 253 Crawford St | See website |