We acknowledge Sorry Day, a national day of remembrance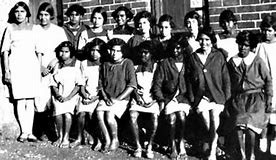 Saturday 26 May marks Sorry Day, a national day of remembrance for the Aboriginal and Torres Strait Islander people who were forcibly removed from their families during the Stolen Generations, their descendants and the families left behind.
To commemorate Sorry Day, COORDINARE staff member, Elaine Lomas, has kindly shared an image of her mother, Eunice Grant. Eunice (pictured fourth from the right) is pictured age 11, standing at Cootamundra Girl's Home in 1927. The photo is a reminder that the impact of the Stolen Generations is still felt to this day.
Aboriginal people experience significantly poorer health outcomes than non-Aboriginal people, and have done so for many decades. This inequality is unacceptable. As an organisation we believe there is a role for all services, whether Aboriginal community-controlled or mainstream, to work together to improve health outcomes for Aboriginal people across the region.
Aboriginal health is a key priority area for us. You can read our Health priority: Aboriginal health statement for more information.