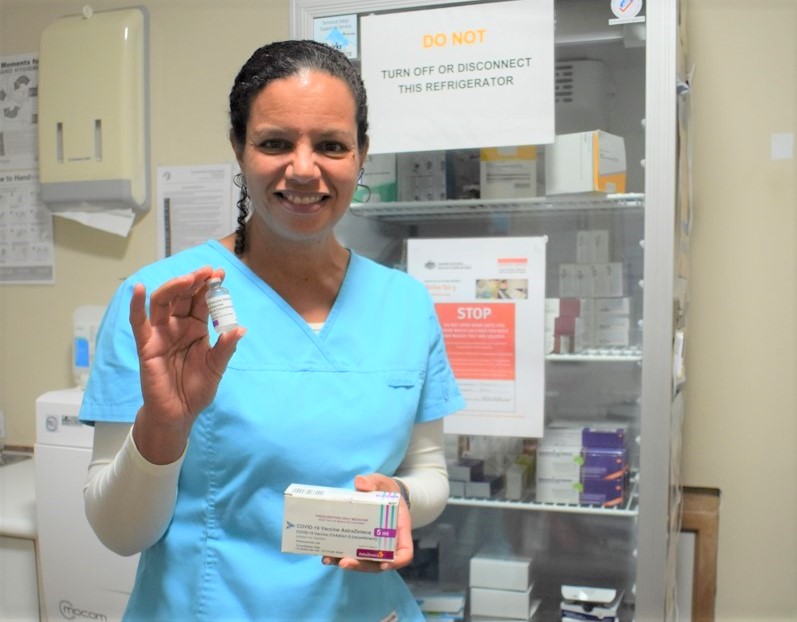 Call for over 50s to book COVID vaccination appointment
3 June 2021
Almost 32,300 people a week can now access the COVID-19 vaccine at an approved general practice or Aboriginal Community Controlled Health Organisation (ACCHO) sites in South Eastern NSW.
According to Dr Katherine Michelmore, General Practitioner at Lakeside Medical Practice Warilla, recent reports of COVID in Victoria, and possibly the Shoalhaven and Goulburn highlight the urgency to get vaccinated now whilst COVID rates are relatively low.
"My concern is we have a huge unvaccinated population with no immunity and a lot of people with medical risk factors who aren't protected from COVID-19. We know that vaccines reduce the spread, we know that vaccines reduce the risk of serious complications and death," said Dr Michelmore.
"It is difficult to get precise estimates on the risk associated with a COVID infection because this varies from country to country, but worldwide deaths range from one to three in every hundred people who contract COVID. We also know that many people will have complications even after they recover from COVID," she said.
"The risk and implications of becoming seriously ill or dying from COVID-19 is so much greater for over 50s. With 32,300 AstraZeneca COVID vaccines being supplied each week, we are encouraging anyone over the age of 50 to book an appointment with their GP to access the vaccine that is available now," said Dr Michelmore.
"Waiting to the end of the year when other vaccines may be available means that you have a longer period of time when you are unprotected. If you are aged 50 or older, I would warn against waiting for other vaccines, as those vaccines may be intended for the younger population or for those who have a specific contraindication to taking the Astra Zeneca vaccine," Dr Michelmore said.
The Australian Technical Advisory Group on Immunisation (ATAGI) has assured that the AstraZeneca vaccine is safe for people who are over the age of 50 years and also for people under the age of 50 years who have already received their first dose of the AstraZeneca vaccine, who did not experience any serious side effects, to receive their second dose.
Dr Michelmore said the risk of blood clots linked to AstraZeneca is exceptionally low and this extremely rare complication of the vaccine happens in very few people. Currently, the risk in Australia is less than two per 100,000 people who get the AstraZeneca vaccine.
"I would encourage everyone in South Eastern NSW to at least discuss getting vaccinated with their doctor. What I'm seeing in my practice is as more people are speaking to their GP and getting advice, more of them are proceeding to book for their COVID vaccine which is what we want to happen," said Dr Michelmore.
"It is important we all take responsibility to protect ourselves and our community from COVID infection, and that means getting vaccinated when you are eligible, practising good hygiene, social distancing and wearing masks if we're required to," Dr Michelmore said.
To find the closest vaccination site, you can use the vaccine eligibility tracker on the Department of Health's website.
If you have questions about COVID-19, COVID-19 vaccines or need help with the COVIDSafe app, call the COVID-19 vaccination helpline on 1800 020 080.
To check to see if you can book a COVID-19 vaccination click here
.