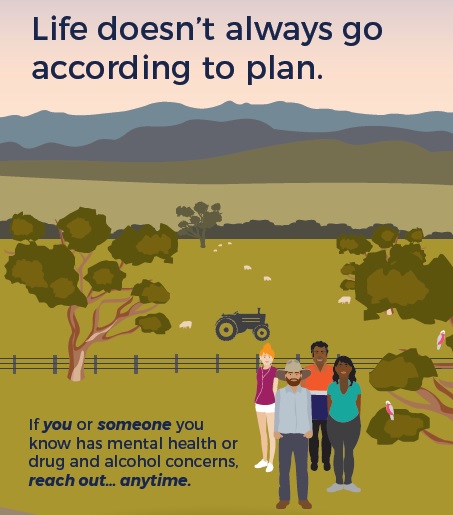 Local residents urged to reach out… anytime!
28 April 2020
An initiative aimed at increasing awareness of support available for mental health, or drug and alcohol concerns in South Eastern NSW was recently launched by COORDINARE - South Eastern NSW PHN, in partnership with Illawarra Shoalhaven Local Health District, and Southern NSW Local Health District as we work together towards recovery across the region.
According to Dianne Kitcher, CEO of the South Eastern NSW PHN, the awareness campaign is designed to encourage people across the region to reach out for help and is particularly relevant at this time following the impacts of the recent bushfires and the current COVID-19 pandemic.
"This year has been an upsetting and stressful time for many, and it's important for people to remember that life doesn't always go according to plan - tough times can happen to anyone," Ms Kitcher said.
"So whether you or someone you care about has concerns with mental health or drug and alcohol, you are not alone. Help is available, and you can reach out, at any time."
The campaign includes extensive television, radio, online and social media advertising urging people to talk to someone they trust, visit their doctor, call Lifeline on 13 11 14, or visit www.reachoutanytime.info for information, resources and help.
"There are options which don't involve seeing a psychologist or taking medication. Your doctor will be able to inform you about some online therapies and self-help options available in your local area," said Julie Carter, Director Mental Health Services at Illawarra Shoalhaven Local Health District.
The campaign kicked off on 26 April in South Eastern NSW and will run until the end of July.
"We hope the campaign will increase awareness of support and contribute to better public knowledge and understanding of the range of services available," Damien Eggleton, Director Mental Health and Drug & Alcohol for Southern NSW Local Health District said.
"It means that people in the community, including families and carers, can now more easily find practical information and advice to support them through this challenging time," he said.