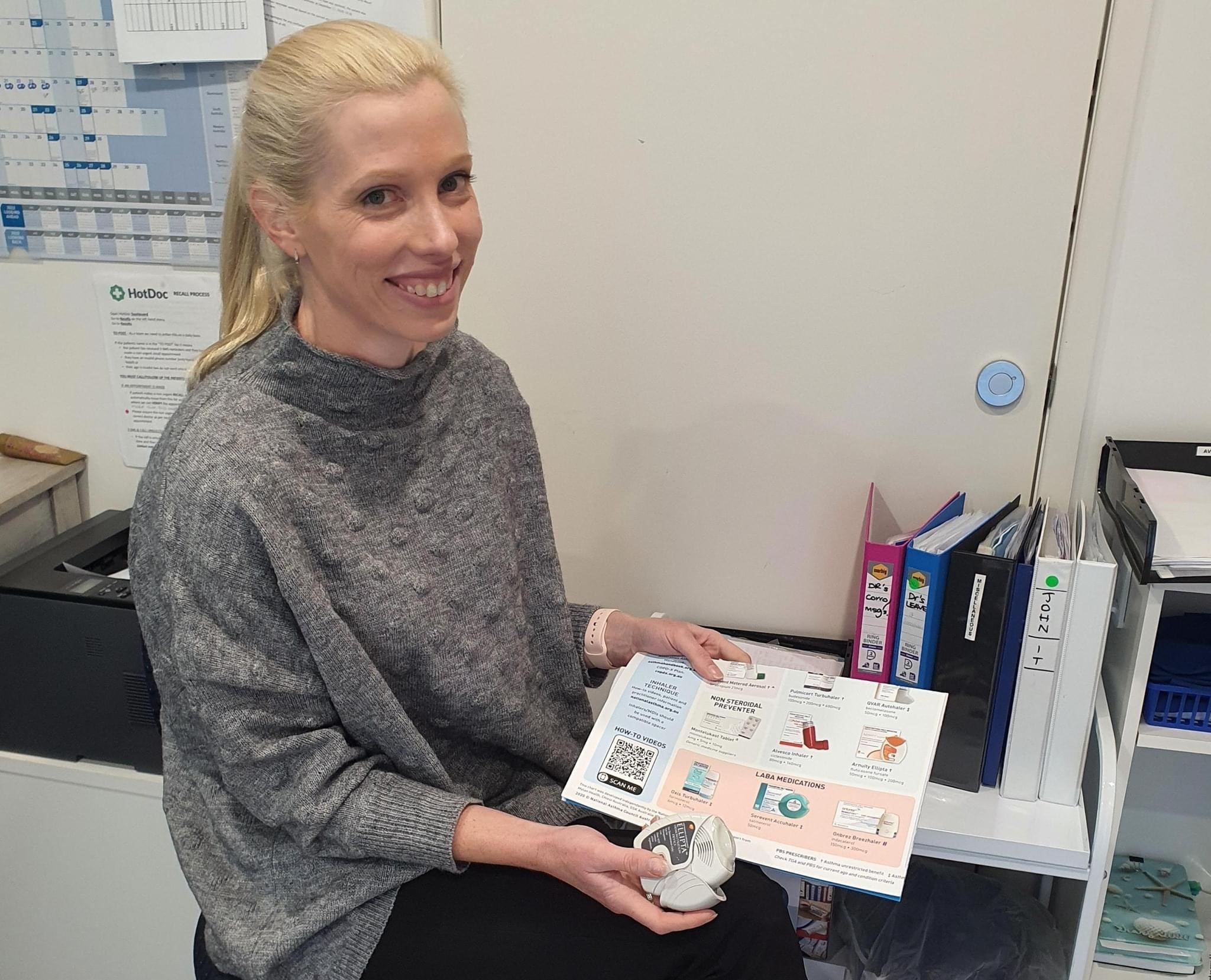 Supporting patients with asthma and COPD
1 September 2021
National Asthma Awareness Week ran from 1-7 September, as a timely reminder for those with asthma to be aware of the risk of flare-ups during spring and thunderstorm season, and to talk with their GP or pharmacist about how they can keep safe and manage their asthma.
Main Street Medical Centre in Merimbula took part in COORDINARE's Winter Strategy initiative, aiming to increase influenza vaccination rates for patients with asthma and Chronic Obstructive Pulmonary Disease (COPD), to optimise the quality use of their medications and improve health literacy and understanding of their own health management.
We spoke with Halley Sharpe, a pharmacist at Main Street Medical Centre about the initiative, challenging times and the positive outcomes for patients with asthma and/or COPD. Questions and answers (Q&As) are below
Q. How and why did the Winter Strategy come about at Main Street Medical?
A. We found the major challenges for asthma and COPD sufferers is that 90% of patients incorrectly use their inhaler and only 10-40% of patients with COPD take their inhaler therapies as prescribed, resulting in poor clinical outcomes. By reviewing techniques, providing education and coaching this can be corrected and help prevent severe exacerbation of symptoms or related hospitalisations.
Patients are more likely to adhere to treatment when they believe it will improve their health and wellbeing, especially if they are engaged in their own health care. Collaborative care coordinated by general practitioners, pharmacists and registered nurses has been shown to improve health-related quality of life in these patients.
Q. What steps are involved in your interaction with patients and what improvements do you hope to see?
A. During the first phase of the project, we would use the 15-minute wait-time following a patient's influenza vaccination, to see how they were using their inhaler and discuss the importance of maintenance inhalers. At the same time, we would perform a medication reconciliation, ask them to complete the Asthma Control Test or COPD Assessment Test to review lung condition and perform the Patient Activation Measure (PAM) to see their level of engagement with their health management. A 'Pocket Profile' medication list is then provided to the patient, assisting them to become familiar with the active ingredient of their medications, helping health literacy and 'Active Ingredient Prescribing'.
A referral to the patient's GP, Respiratory Nurse Practitioner, or follow up appointment with myself for a Home Medication Review may occur if there is a clinical need. We want to see improvement with the inhaler technique, and to optimise the quality use of the medication. Also, after our interaction with the patient, we hope to see improvement in their ACT or CAT score and improvement in their health literacy/PAM10 score.
Q. How have you managed asthma and COPD management in the context of COVID-19?
A. As expected, COVID-19 has provided some barriers and the medical practice has a limited capacity to perform spirometry. Luckily, the Respiratory Registered Nurse Practitioner (RRNP) from Southern NSW Local Health District can perform spirometry while maintaining COVID-19 protective measures. Therefore, collaboration and referral to the RRNP are occurring during the Winter Strategy project and telehealth has also been utilised for patient consults during lockdown periods if required.
Q. Did you see exacerbations during the bushfires and how did you manage that?
A. Yes, we did see exacerbations of asthma and COPD during the bushfires. The supply of medications was also hindered by interrupted delivery (due to road closures) and out of stock issues, however, community pharmacists in the area did a great job of rationing the supply of Asmol and Ventolin. It also provided an opportunity to discuss the benefits of spacers to improve efficacy, the importance of adhering to preventative inhalers, and if appropriate to discuss the patient's mental health during a troublesome time.
Q. What have been some good outcomes for patients diagnosed with asthma and/or COPD from the Winter Strategy?
A. We've seen many patients benefit by simply improving their inhaler technique. We've also seen improvements by encouraging the use of a spacer for meter dose inhalers (MDI) or changing the type of inhaler used to improve the efficacy of the medication. For example, a severe COPD patient may not have the inspiratory force for a dry powder inhaler (DPI), therefore an MDI with a spacer would be more beneficial.
After a patient-centred discussion occurs, a patient may also improve their compliance with medication. They enjoyed having the opportunity to discuss any other medication-related enquiry, and the pocket size medication lists they can keep in their wallets. The GPs appreciate addressing any differences found in the medication reconciliation, to provide the most accurate medication list on their records.
Q. What advice would you give to people who suffer from asthma and/or COPD during Spring?
A. Spring can present with some problems for asthmatics such as pollen triggers, thunderstorm asthma and hayfever. I would recommend being proactive and have steps ready if your asthma worsens, GPs can assist patients with this by reviewing their Asthma Action Plan. Also, to keep a good level of asthma and COPD control by taking maintenance inhaler medications regularly. Hayfever occurs in 80% of asthma patients and can make symptoms worse, it would be worthwhile for patients to see their GP or pharmacists for measures to assist with hayfever such as antihistamines or corticosteroid nasal sprays.
With the return of COVID-19 outbreaks and lockdowns, normal health appointments may also be harder to access, particularly if asthma patients are experiencing symptoms such as difficulty breathing, postnasal drip or coughing that overlaps with symptoms of COVID-19. It's important for asthmatics to seek timely access to GPs if there is worsening of symptoms, and not to wait. For example, see if it is possible for the GP to provide a telehealth appointment until COVID test results return.
Q. What would you say to any general practices or pharmacies thinking of introducing a similar initiative?
A. I would highly recommend this initiative or similar, there have been many benefits for both patients and GPs. For a GP practice looking to introduce a similar initiative, it would be worthwhile to embed a pharmacist who is accredited to perform HMRs, in which after the initial consult, if required, referrals can be made and the pharmacist, and referring doctor can be reimbursed for their time through the 6th Community Pharmacy Agreement and MBS Item 900. This will assist the viability of the project.
You can find out more information on the Winter Strategy here.
For help with any quality improvement projects please contact your Health Coordination Consultant or email info@coordinare.org.au. You can also click here for other useful resources including case studies and models of care implemented by other local practices.